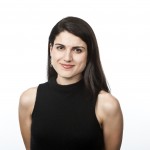 Lily Jamali is a San Francisco-based financial journalist for Reuters TV covering the tech industry and the West Coast of the U.S. In 2014, Lily was part of the Reuters team covering the Davos World Economic Forum in January and the Aspen Ideas Festival in July.
Lily holds an M.B.A. in Finance from New York University's Stern School of Business. At Reuters, she covers topics including monetary policy, company news, the sharing economy and net neutrality. Prior to Reuters, she reported for NBC News Mobile (English and Spanish) where her work ran on NBC affiliates around the country. Lily spent three years at NY1 News where she covered breaking news before being assigned the police and national security beat. She's also reported for WNYT (NBC affiliate) in Albany, NY and KRCR (ABC affiliate) in Redding, CA.
Lily has traveled the world as a freelance correspondent. In 2012, Lily was given a travel grant by BBC's "The World", which sent her to Brazil to report on public safety in the favelas of Rio de Janeiro, the impact of the Eurozone crisis on immigration, the shifting role of Catholicism and the indigenous practice of Umbanda in Brazilian life. Other awards and grants include a SAJA Reporting Fellowship to cover the impact of climate change on the Maldives, the National Press Photographers Association's Paul Threlfall Award, and a Mid-Career Grant from the National Academy of Television Arts and Sciences. Lily also won Columbia Journalism School's Leslie Sander Social Justice Award for a documentary she co-directed and produced on Irish immigrants returning to Ireland from the Bronx.
Lily speaks Farsi, Spanish and French. In addition to an M.B.A., she holds a Master's degree from Columbia University's Graduate School of Journalism and a Bachelor's degree in English from UCLA. She lives in Manhattan.
Follow her on Twitter – @lilyjamali – or email story ideas and feedback to lilyjamali@gmail.com.